Sunday, February 14, 2016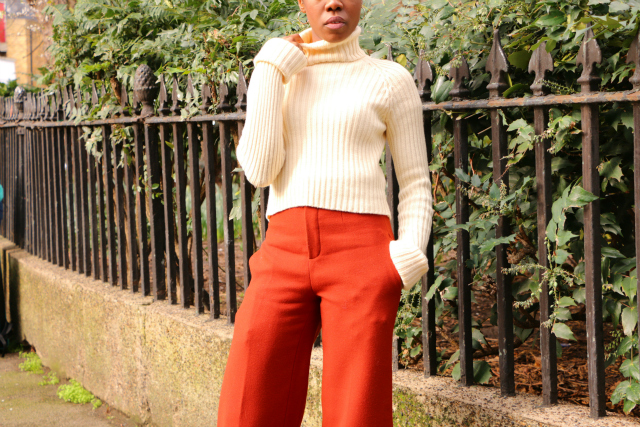 My style has hit the snooze button a couple of times since last year especially in summer and this comes as a result of the febricity that London has on offer. From the roof top bars, to barbecues and festival events my style has come to a grinding halt. The tube is not the only thing that's ready to go on a strike- I am too. In attempt to waken my system I'm revisiting old favourites with a fresh perspective, by breathing new life into classics as one way to test the waters during winter when all of your clothes that made you look hot start to feel lukewarm. How did I do it? By spicing things up with items that are looking a bit bland for one's taste.
It's the perfect time to prep for a new season and with the 70s revival carved into the woodworks I welcome It with open arms. Remember when my turtleneck was my steady 9-5 and now that I'm putting in overtime I'm ready to roll up my sleeves and lay down the groundwork. My uncertainty for silhouettes especially hemlines are pervasive as the temperatures wavering. So I maximise the potential to embrace colour by referencing a 70s retro vibe reflected in items such as: the turtleneck through the prisms of the 90s-styled in a chunky rib knit sweater with high waisted culottes.

Hot off the press and landing its way into UK stores Browns Fashion, I'm starting off on the right foot with
MNZ's Roberta pumps.
As a result, Intoxicated with shot of vitamin D gives me an inner boost of style confidence and it's all I need to self-medicate back to health. Since we're still in trans-seasonal beginnings, I still have time to catch up and raise my glass to embrace the fact that change is in the air and I'm in no hurry for it to end.
Wearing: Vintage Fur Coat, Chloe Culottes (
AW13 collection
), Vintage Joseph rib knit turtleneck and
MNZ Roberta Pumps
(
here
,
here
and
here
)